Rouhani hits back at Trump but invites US back to table for nuclear talks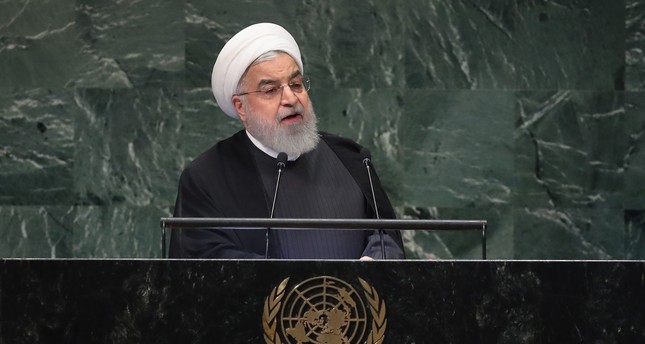 Iranian President Hassan Rouhani hit back at U.S. President Donald Trump in his speech to the U.N. General Assembly, but also invited him back to the negotiating table.
"Confronting multilateralism is not a sign of strength, rather a symptom of the weakness of intellect," Rouhani said on Tuesday, in a reference to Trump's speech a few hours earlier touting U.S. sovereignty.
Rouhani said it was "unfortunate" that some of the world's leaders preferred to secure their interests by "trampling on global rules and undermining international institutions."
The Iranian leader said he was pleased that the international community did not follow the Trump administration's "unilateral and illegal withdrawal from the JCPOA," the Joint Comprehensive Plan of Action as the nuclear deal is known.
"Unlawful unilateral sanctions in themselves constitute a form of economic terrorism," said Rouhani.
He then accused his U.S. counterpart of trying to topple his government, saying: "It is ironic that the U.S. government does not even conceal its plan for overthrowing the same government it invites to talks."
"For dialogue to take place, there is no need for a photo opportunity. The two sides can listen to each other right here in this Assembly.
"I am starting the dialogue right here, and state, in unequivocal terms, that the question of international security is not a toy in American domestic politics."
Rouhani took the podium a few hours after Trump called for Iran's isolation in his U.N. address, accusing the leadership of Iran of sowing "chaos, death and destruction" as he defended his decision to ditch the Iran nuclear accord.
The five remaining parties to the 2015 accord — France, Britain, Germany, China and Russia — agreed during a meeting in New York late Monday to set up a payment system to preserve business ties with Iran despite US sanctions.
Trump withdrew from the nuclear deal in May, to the dismay of European allies, Russia and China which had invested years in negotiations to achieve a milestone agreement on keeping Iran's nuclear ambitions in check.
In his U.N. address last year, Trump bashed the nuclear deal as "an embarrassment," signaling that the United States was ready to walk away.
The U.S. is currently in the process of reimposing sanctions on Tehran.
Trump said he is not planning to meet Rouhani on the sidelines of the UN General Assembly. Rouhani told CNN he had not requested a bilateral meeting with the US president.