Brexit: No 10 releases exchange of letters between May and Tusk/Juncker over backstop – Politics live
The Guardian
5 days ago
Rolling coverage of the day's political developments as they happen, including Theresa May's Brexit speech, and her statement to MPs
The Press Association has snapped these on the Tusk/Juncker letter.



European Commission president Jean-Claude Juncker and European council president Donald Tusk have released a letter offering "clarifications" to the UK's withdrawal agreement, stating that Brussels "does not wish to see the backstop enter into force" and confirming its "determination" to see it replaced.



The letter to Theresa May from Juncker and Tusk states that "we are not in a position to agree to anything that changes or is inconsistent with the withdrawal agreement".
No 10 releases exchange of letters between May and Tusk/Juncker over backstop
The government has now published an exchange of letters between Theresa May and Donald Tusk, the European council president, and Jean-Claude Juncker, the European commission president, about the withdrawal agreement and the backstop.
The letter from May is here (pdf).
And the response from Tusk and Juncker is here (pdf).
Boris Johnson says people will blame 'deep state' if Brexit gets blocked
Boris Johnson, the Brexiter former foreign secretary, told LBC this morning that any move by parliament to frustrate Brexit would be seen by voters as a "betrayal" by the "deep state". Speaking about what would happen if MPs tried to stop Brexit happening, he said:



I think that people will feel betrayed. And I think they will feel that there has been a great conspiracy by the deep state of the UK, the people who really run the country.
He also said MPs involved in these manoeuvres were "playing with fire".
Asked what would happen if MPs voted down Theresa May's deal, he replied:



I think the deal goes down. I think, possibly, some colleagues are being scared by this idea that there might be no Brexit as a result of voting it down. I think that's nonsense.

Britain will leave in March, absolutely, and that's the bottom line.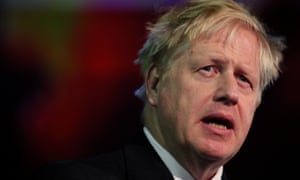 How many no confidence motions can Jeremy Corbyn table?
A question from Antecedent BTL.

Before Christmas some people seemed to think that, if Jeremy Corbyn lost a confidence motion, he would not be able to table one for another year. That is not correct. (Someone seems to have got this muddled with the Conservative party rules for no confidence votes in the leader.) There is no limit on how many no confidence motions Corbyn can table. By convention, the government has to allow time for them to be debated. But convention also dictates that the opposition should not table them casually, and the advice from Commons officials is that, if Corbyn were to table a second one when nothing much had changed since the first vote, the government would be entitled in thinking there was no need to put it to a vote. Obviously, if, for example, the DUP, or a cohort of Tory MPs, were to declare that they had changed their position, that would justify a second vote.
On the subject of Welsh devolution and Brexit, the Welsh academic Richard Wyn Jones has posted a fascinating thread on Twitter saying that there was a lesson for Theresa May to learn from what happened in Wales after 1997, but that it is not the one flagged up in her speech. (See 10.25am.) It is about the importance of "losers' consent". The thread starts here and it sums up what is probably the key flaw in May's approach to Brexit superbly (although whether "losers' consent" was ever possible in the context of Brexit is debatable).
And here are some of his tweets.
("They" are the Labour politicians at the time pushing devolution, led by the then Welsh secretary, Ron Davies.)
May accused of 'utter hypocrisy' after citing Welsh devolution as example of why referendum vote must be honoured
Downing Street released overnight some extracts from the speech Theresa May will give later this morning. Here are the highlights.
May will claim that, if her Brexit deal is rejected, no Brexit would be more likely than a no-deal Brexit. According to the briefing, May will say "that, based on the evidence of the last week, she now believes that MPs blocking Brexit is a more likely outcome than leaving with no deal." This is an argument that Jeremy Hunt, the foreign secretary, was making on Friday. In the past May has at times argued that the rejection of her deal could lead to either a no-deal Brexit or to no Brexit, and at other times argued that the UK will leave the EU on 29 March regardless. For her to effectively concede that parliament would block a no-deal Brexit (which is the implication of the briefing, although the direct quotes from her on this point have not yet been released) is significant.
She will say MPs have a duty to honour the referendum result, citing Welsh devolution as an example of how even narrow referendum wins must be honoured. She will say:



In June 2016, the British people were asked by MPs to take a decision: should the United Kingdom remain a member of the European Union or should it leave?

In that campaign, both sides disagreed on many things, but on one thing they were united: what the British people decided, the politicians would implement.

In the run-up to the vote, the government sent a leaflet to every household making the case for remain. It stated very clearly: 'This is your decision. The government will implement what you decide.'

Those were the terms on which people cast their votes. If a majority had backed remain, the UK would have continued as an EU member state.

No doubt the disagreements would have continued too, but the vast majority of people would have had no truck with an argument that we should leave the EU in spite of a vote to remain or that we should return to the question in another referendum.

On the rare occasions when parliament puts a question to the British people directly we have always understood that their response carries a profound significance.

When the people of Wales voted by a margin of 0.3%, on a turnout of just over 50%, to endorse the creation of the Welsh assembly, that result was accepted by both sides and the popular legitimacy of that institution has never seriously been questioned …

Imagine if an anti-devolution House of Commons had said to the people of Scotland or Wales that despite voting in favour of a devolved legislature, parliament knew better and would over-rule them. Or else force them to vote again.

What if we found ourselves in a situation where parliament tried to take the UK out of the EU in opposition to a remain vote?
Unfortunately for May, there is a glaring problem with the Welsh devolution analogy; the Conservatives, and May herself, did for some time refuse to accept the result. Politico Europe's Jack Blanchard sums up the full awfulness of this error in his London Playbook briefing.


My colleague Peter Walker has more on this gaffe here.
The Labour MP Jo Stevens has accused May of "utter hypocrisy".
Earlier I said that, if Theresa May loses the vote tomorrow by more than 100 votes, it will be the biggest government defeat for almost 100 years. I've taken that from this Prospect article by the academic Philip Cowley setting out various benchmarks that can be used to establish how serious tomorrow's defeat (assuming May does lose) will be. Here is an excerpt.



If, as is occasionally claimed, the government is looking at a defeat of by more than 100 votes, that will be something that has only happened three times in the last hundred years. All took place during the Labour minority government of 1924, when the government suffered three defeats of 166, 161 and 140.

But Labour then held under 200 seats, governed only with the tacit support of the Liberals, and knew it could suffer heavy defeat at any point.
Any MP who has been in parliament for a while will have lived through the odd crisis or two, but there is no precedent in recent times for anything quite as momentous as this. It is not just that, if Theresa May loses the vote on the Brexit deal tomorrow by more than a 100 votes (a distinct possibility), that will amount to the biggest government defeat for almost 100 years. It is not just that this is an issue that has polarised the country, and split both main parties (although particularly the Conservatives). It is not just that parliamentary conventions are being upturned, and that one possible outcome could involve economic catastrophe (although some people say otherwise – see below). What makes this situation particularly remarkable is that no one is even pretending to be able to predict with confidence what will happen.
There is almost too much news. Here are the key developments overnight and early this morning.



I don't regard no-deal as national suicide. This is not Dunkirk, this is leaving the European Union.

We need to find ways if there is no deal, of mitigating that. But the best way to do it is to accept the deal that the prime minister has negotiated. It gives us a way of leaving the European Union with minimum friction.

I think no-deal would damage our economy – I've been frank about that – but I think it's survivable.

I think no Brexit, politically, is a disaster from which we might not recover.
But Grieve told the Today programme that Fox was wrong to dismiss his claim about a no-deal Brexit being "national suicide". Grieve said:



It would be national suicide. It will lead to the break up of the UK for starters. That seems to me to be a pretty clear indication of a form of national suicide.

The economic damage which it will do to us will be immense, so that the most vulnerable in our society will be those who suffer most as a consequence.

If you are going to head to a position where you are going to have an 8% cut probably in your GDP – which is a major recession – it is those with least in our society who will suffer most. I'm not prepared to see that happening.
Fox said May had been offered "assurances" from the EU about the backstop. They are expected to be published later today, in the form of a letter to May. Fox said:



The prime minister will seek to make a statement in the House of Commons today outlining the assurances she had had from the European Union following discussions over the last few days and I hope my colleagues will listen to those and recognise the best way forward is to support the government's agreement because it delivers on the referendum result and does so in a way that minimises the risks to our economy.
Three Conservative former ministers have revealed details of a bill to allow the Commons liaison committee to produce a Brexit plan if May cannot get hers through the Commons. Nick Boles explained on the Today programme how the scheme, also backed by Sir Oliver Letwin and Nicky Morgan, would work. They have produced a EU withdrawal number 2 bill, he said. He went on:



This bill would do the following: it would give the government three more weeks to get a compromise deal, a plan B, through parliament so that we are leaving the EU on time on March 29 with a deal. If that failed, it would then ask the liaison committee, which is the committee of all the chairs of select committees and other parliamentary committees, it would give the liaison committee the responsibility to try and come up with its own compromise deal, which would have to go back to the House for a vote. If the House passed that compromise deal, then the Government would be legally required to implement whatever it was that they had.
Asked if the plan represented a "coup" by MPs, Boles told Today:



It's a funny kind of coup which requires a majority vote of democratically-elected MPs before the tanks start rolling. So, no, it isn't a coup, it's an expression of parliamentary will.
But this morning the plan has been criticised by Sarah Wollaston, the Conservative MP who chairs the liaison committee (even though Wollaston, like Boles, Letwin and Morgan, is strongly committed to avoiding a no-deal Brexit. She posted these on Twitter.
In the light of Wollaston's comments, the Boles plan may already be doomed.
The Conservative MP Andrew Murrison is tabling an amendment to the motion that would approve the Brexit deal, "subject to a legal codicil being added to the withdrawal agreement treaty which specifies that the backstop solution shall expire on 31 December 2022," BuzzFeed's Alex Wickham reports. This is the sort of ploy that will appeal to some in government because, if it were passed by the Commons, it would amount to an ultimatum to the EU, which would then have to decide whether to produce this codicil to make the deal acceptable to parliament.
Twelve Conservative former ministers have written to Tory MPs urging them to vote against the Prime Minister's Brexit deal. As the Sun reports, "the dozen, including Boris Johnson, demand in their plan B letter that the PM issue the EU with a final ultimatum for a better deal when hers is voted down on Tuesday – and then leave without one."
John McDonnell, the shadow chancellor, has suggested that Labour does not welcome the Hilary Benn amendment to the motion tomorrow night. Benn's amendment rejects May's deal and says the UK should not leave the EU without a deal. This is Labour policy but, if it gets pushed to a vote, it would mean there would be no yes/no vote on May's deal on its own and although the Benn amendment would probably pass, the government defeat would look smaller than otherwise because there are some Tory Brexiters who would oppose May's deal but who would not vote for the Benn amendment (because they would accept a no-deal Brexit). Hinting that Labour would like Benn to withdraw his amendment, McDonnell said it was "perfectly sound" but that he preferred a "straight vote" on May's Brexit deal.
The Labour MP Sir Kevin Barron has declared he will back May's Brexit deal. Writing in the Times (paywall), he said it was the only option that "truly enacts the promises that I made to my constituents and avoids the horror of a no-deal Brexit".
Here is the agenda for the day.
Mid morning: Theresa May gives a speech on Brexit. As Peter Walker and Dan Sabbagh report, she will tell MPs that voting down her proposals on Tuesday would destroy faith in politics, and could mean that Brexit does not happen.
11.30am: Dominic Raab, the former Brexit secretary, gives a speech to the Centre for Policy Studies on the UK after Brexit.
After 3.30pm: May gives a statement to MPs about Brexit.
As usual, I will also be covering breaking political news as it happens, as well as bringing you the best reaction, comment and analysis from the web, although today I will be focusing almost entirely on Brexit. I plan to post a summary at lunchtime and another after May's statement finishes, at around 6pm.
You can read all the latest Guardian politics articles here. Here is the Politico Europe round-up of this morning's political news. And here is the PoliticsHome list of today's top 10 must-reads.
If you want to follow me or contact me on Twitter, I'm on @AndrewSparrow.
I try to monitor the comments BTL but it is impossible to read them all. If you have a direct question, do include "Andrew" in it somewhere and I'm more likely to find it. I do try to answer questions, and if they are of general interest, I will post the question and reply ATL, although I can't promise to do this for everyone.
If you want to attract my attention quickly, it is probably better to use Twitter.
Updated