Unilever must better explain why it is going Dutch | Nils Pratley
Unilever must better explain why it is going Dutch

The multinational is meeting a lot of opposition in its efforts to move its HQ to the Netherlands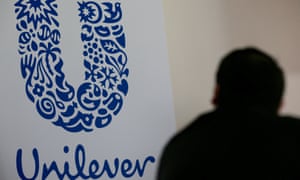 Unilever's board is clearly rattled. You could hear its finance director, Graeme Pitkethly, on the Today programme defending the corporate plan to head to the Netherlands, and you could read the chairman Marijn Dekkers' opinion piece in the Telegraph. These public pleas wouldn't be necessary if the lobbying campaign – more than 200 meetings with investors over the past six months, says Dekkers – had guaranteed the "huge support" the company claims before next month's vote.
In fact, it's effectively two votes in the UK, and it's hard to know which is more frightening for the board. On the conventional tally, Unilever needs a 75% majority among the plc shares. That already looks tight since Aviva and M&G are committed to vote against and Lindsell Train will be voting at least some of its shares the same way. Legal & General, the tracker fund supremo in the UK, will have to come up with a very good explanation if it doesn't join the rebellion. Tracker funds are among those most affected by the plan since a Dutch-incorporated Unilever would drop out of the FTSE 100 and other UK indices.
In the second tally, though, Unilever needs a simple majority among shareholders who vote. In other words, individual votes count equally regardless of whether the holder has one share or 1m. There are reckoned to be 36,000 UK retail investors and 8,500 UK institutions, so a patriotic rebellion in the former camp could win the day on its own. That explains the belated media blitz by the directors.
But Dekker is going to have to do better. From a technical perspective it should be as easy for Unilever to "simplify" into a single entity in the UK as in the Netherlands. So, if two out of three of Unilever's divisions will be based in the UK, a fact the chairman offered to pacify the UK audience, why put the head office elsewhere? Dekker brushed over the point as if the answer is somehow obvious. It's not.
Next moves to soften the Brexit blow
Next boss Lord Wolfson, it could be said, has more reason than most chief executives to offer investors an explanation of how a no-deal Brexit would affect the business. He was, after all, a prominent Vote Leave campaigner. In fact, Next's 10-page "impact analysis" is exactly the type of document all large quoted companies should be producing if they're serious about keeping investors informed. It was free of political point-scoring and contained genuinely useful information, such as the maximum potential additional duties to be paid by Next: £20m.
Any wider lesson relates to Next's biggest fear: snarl-ups at UK ports. That's not because most of its imported goods, most of which come from outside the EU, would require much heavier customs checks. Rather, it's because other companies would have to make increased customs declarations. The worry is that the government is simply unprepared for a heavier workload.
Wolfson makes three suggestions, all of which could be summarised as "be flexible". First, raise import thresholds for goods brought to the UK by small importers. Second, since business is trusted to collect £125bn in VAT every year, let it collect £3.5bn in duty the same way, thereby relieving some of the pressure at ports. Third, extend "trusted trader" status to more businesses so that checks on vehicles and documents could take place inland.
In short, it's dull stuff that could prove very important next March. Being polite, Wolfson says it would be "helpful to know" if the government is considering such changes. In other words, get a move on. Fair point. It's alarming that Next seems better prepared than ministers.
John McDonnell must rethink share ownership
John McDonnell's "inclusive ownership trust" scheme would yield £5.9bn for the Treasury in its 10th year, an FT analysis calculates. The numbers sound legit. The example was given here on Monday of Lloyds, where employees would have got £34m in dividends last year but the Treasury would have collected £185m. Similar ratios would apply at other big dividend-payers with relatively few workers.
McDonnell needs to rethink. His idea looks more like a tax-raising measure than a genuine attempt to increase employee share ownership. A chancellor can pursue both goals if he wishes – but the blurring of lines is underhand.